bowers & wilkins
We are an authorised dealer for B&W products in the UK. The range includes the Bowers & Wilkins Custom Theatre loudspeakers:
Bowers & Wilkins CT 800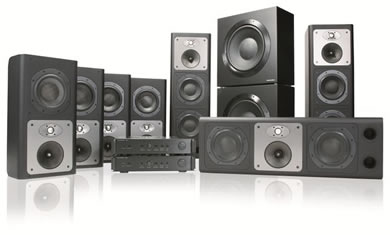 The flagship CT 800 range combines reference-standard power, clarity and control with a design that allows each speaker to be custom-fitted into your dedicated home theatre room. Once installed, the speakers are virtually invisible. What's impossible to ignore is the sound. You'll be experiencing everything from the roar of a jet engine to the creak of a staircase in extraordinarily life-like, three-dimensional detail. Welcome to the best home theatre system in town.
CT8 LR - The CT8 LR is probably the most technologically advanced, custom installation home theatre speaker the world has ever seen or heard. At the heart of this slim, 3-way front channel speaker is technology borrowed directly from the flagship 800 Series; twin Rohacell® bass drivers, a woven Kevlar® FST™ midrange driver and a metal dome high frequency driver. Integration of the drivers is semi-active via the CT8 XO active crossover/equaliser.

The CT8 LR midrange and high-frequency drivers are held in a super-rigid spherical pod that incorporates Nautilus™ derived tube loading, cleverly curled-up for compactness. The pod orientation is even adjustable for perfect alignment with the listening area. The main enclosure housing the bass drivers is Matrix™ braced to provide a solid system foundation, and plays accurate, dynamic bass down to 23Hz, well into subwoofer territory

Description: 3-way closed-box system
Frequency Range: -6dB at 23Hz and 40kHz
Frequency Response: 29Hz - 24kHz ▒3dB on reference axis
Sensitivity: 93dB spl (2.83V, 1m) (mf/hf)
Dispersion: Within 2dB of reference response
Horizontal: over 60║ arc
Vertical: over 10║ arc
Drive Units:
1x °32mm (1 in) metal dome high-frequency
1x °150mm (6 in) woven Kevlar« cone FSTTM midrange
2x °250mm (10 in) carbon fibre/rigid foam sandwich cone bass
Dimensions: H 1100mm W 325mm D 550mm
H 43.3 in W 12.8 in D 21.65"
Weight: 85kg (187 lb)


CT8.2 LCR - The CT8.2 LCR's unique modular baffle design allows for it to be used as a LCR speaker in either vertical or horizontal positions


CT8 CC - The CT8 CC is the perfect centre speaker for the ultimate home theatre experience. The same driver line up as the CT8 LR make for a seamless experience


CT8 DS - The CT8 DS is a dedicated surround speaker, that provides the option for users to select either dipole or monopole options depending on the type of room in which it is used


CT8.4 LCRS - The CT8.4 LCRS is designed as an alternative to the CT8 DS when space is at a premium
"...It's been developed to deliver the ultimate, cost-no-object sound quality, and after an extended testing process, we're happy to report that it delivers: we've certainly never heard a home cinema system (or, indeed, any cinema) to better it.
Everything it relays sounds so effortless. Granted, our test system used three of the massive CT8 SW subwoofers (each with a 15in bass driver, and each powered by its own Classe amp), but even so - for sheer dynamic reach, it's hard to imagine anything more thrilling than this."
For all enquiries regarding Bowers & Wilkins products, please contact us as follows and we'll be happy to help:
Telephone: 01707 695 283
Mobile: 07802 948 183
Email: enquiries@exclusivecinemas.com